Monday Romance Reads To Devour 11/21
Discovering Delilah
(An LGBT Love Story) Contemporary Romance
Melissa Foster
$0.99
In DISCOVERING DELILAH…
After the death of her parents on the day of her college graduation, Delilah Armstrong thought she could finally follow her heart and come out to her closest friends, but the guilt of going against her parents' beliefs haunts her. The feelings she has for her best friend, Ashley, are stronger than anything she's felt before, but Delilah has never even kissed a girl, and fear stops her at every turn.

Ashley Carver promised herself that she would never again date another girl who wasn't out, but that was before she met intoxicatingly sweet and sexy Delilah.

When another girl offers to teach Delilah the ropes, it changes Delilah's whole world and gives her the courage to go after the only girl she really wants. But coming out isn't as easy as Delilah imagined, and moving past her parents' death and the feelings of guilt she is left with is even harder. The intense passion between Ashley and Delilah is too strong to deny, but coming together means risking everything.

Discovering Delilah is an edgy, evocative, romantic story of friendship, family, and the courage to love.

Click here for all available retailers >>
Claiming Her Forever
Alexis Winter
$0.99 
I'm not Mr. Settle-Down-and-Start-a-Family.
Tried it. Failed at it. Don't want it again.

In fact, I like my solitary life in the mountains.
I learned the hard way that life ain't easy or fair.One minute you think you've got it all figured out and the next, you find your wife in your bed with your own best friend.
So I mind my business. I keep to myself.Then Quinn Prescott shows up to rent the lower level of my cabin.
Sweet, innocent Quinn with her persistent attempts to get to know me and her constant questions.
Those big doe eyes have a story behind them.She wants more than just a casual hookup and she deserves more.
She deserves it all. Dates and flowers and happily ever after.
But I'm not the man who can give it to her, and the quicker she understands that, the better.I tell myself just one small touch.
One lingering glance into her piercing blue eyes.
One taste of her sweet, pouty lips.But it's not just once. It's an all-consuming desire to claim her, to make her mine.
I can feel myself losing grip on the situation but I don't care.
I keep telling myself that when her lease is through in three months…so is this make believe we're living in.

Then my ex shows up with a baby, claiming it's mine and reminding me why I live by the rules that I do.
Only it's too late, I've let Quinn in and now she's carrying a secret of her own.

I thought putting up these walls around my heart would protect me from ever falling again, but I was wrong.No matter how many times I try to lie to myself, this thing between us isn't just lust—it's something so much more and it's something I'm about to lose forever.

Ride 'Em Hard
Adriana French
FREE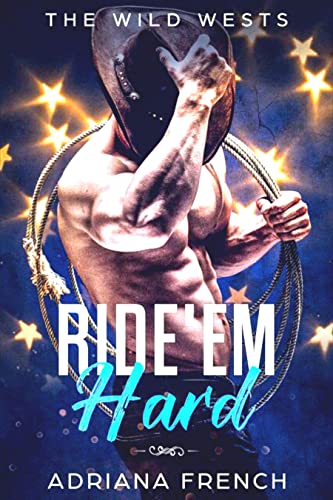 When possessive Montana bad boy Chase West sets his mind on something, he gets it. When he finds a stranger snooping on his ranch, his mind (and everything else) is set on her.

Lexi Parker, sent on a fool's errand to convince Chase to go back to Hollywood and start filming again, has no idea what she's in for.

Chase has Lexi so hot and confused she doesn't know what she wants. And if she did, she'd be too embarrassed to tell him.

Luckily for her, Chase knows exactly what she needs, and he's going to give her the ride of her life, over and over again.

Saddle up, Sugar. Get ready for a cowboy-caveman. Chase West is an alpha male to the nth degree. Expect humor, coarse language, graphic and steamy situations, and insta-love.

No cheating and a Happily ever after.

"C'mon, let's ride 'em hard!"