Saturday Romance Reads To Devour 2/4
Blitz
Allie Lasky
$2.99
Forgiveness is brutal.
It's worse when the hurt hits you on your blind side. And it's impossible when the heartbreak comes the night before you leave for college, thinking you're on the same page with the love of your life when it comes to being hundreds of miles apart for the next four years.
Tucker carries the hurt of Mason walking away, and it keeps him stuck – unable and unwilling to move on. When she transfers to Tucker's school for their final year, it's a hit he isn't ready for.
Mason has one, no, two, no, three things on her mind: run her best track season yet, get into grad school, and convince the love of her life to give her another shot.
Things don't necessarily go in that order – or to plan – as they work through the history of their heartbreak, and it doesn't help that their years apart dealt blows that caused even more pain.
Tucker is the defensive tackle usually running the blitzes. But this one he won't see coming.

Vampire King: Enemies To Lovers Protector Romance
Nikki Grey
$0.99
Your worst enemy is your best protector.

In a supernatural town that has always protected you, you don't expect to stumble upon danger.
Yet, there are threats around every corner.
Lurking.
Waiting.

In a town where everyone is different, where everyone is a shifter, being a human feels like being an ugly duckling in a goose pond.

When those I trusted the most turn their back on me, when those you trust betray you, who becomes your protector?
The vampire king?
The… enemy himself?

He offers me a deal, and I know it is my only way out. I have to accept.
He wants to find the secret well.
I need someone to keep me safe.

But that means I have to be close to him.
Closeness means affection.
Affection turns to forbidden love, and eventually, enemies become lovers.

Even then… are they to be trusted?

Vampire King is a standalone Paranormal Romance with a HEA and NO cheating!

Evidence Of Trust
Stacey Joy Netzel
FREE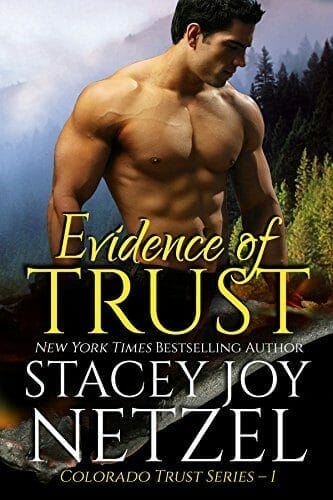 With a killer on the loose in the Rocky Mountain National Park, this workplace romance could be deadly.

Joel Morgan is a top special investigator in the National Parks system – because he never gets distracted and always gets his guy. On the hunt for a poacher in the Rocky Mountain National Park, he finds himself thoroughly frustrated when sexy, head-strong Brittany Lucas complicates the hell out of his investigation. The constant desire to kiss her smart mouth shut has him missing details that put them both in danger.

Sparks fly as they battle for the upper hand, but he'll have to put his growing feelings aside and do his job when the killer upgrades from murdering animals to targeting Britt.