Saturday Romance Reads To Devour 3/18
Nate (The Chaos Chasers MC Book 1)
C.M. Marin
$0.99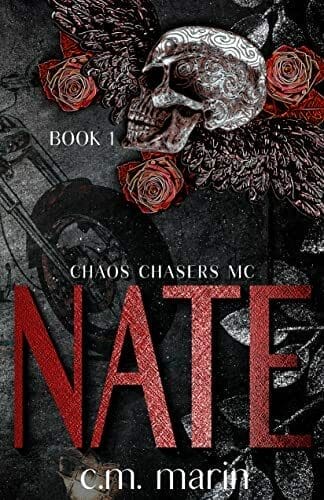 NATE
She barged into my life out of the blue. Totally unexpected. Sweet and gorgeous. But one warm look from Camryn's grey eyes, and one sweet smile thrown at me, has me on my knees. It doesn't change the fact that I can't have her, but that's alright. I'll keep drowning in her beautiful eyes and drinking in her soft voice until she has to leave town.

But then threats come her way, harming her while I can't do anything to stop it, and the instinctive need to protect her kicks in. Whether she wants it or not, I won't leave her side until I know she's safe. And when she gives in to the attraction burning between us, I realize something. I don't want to leave her side at all.
CAMRYN
Grief and loneliness have been my closest friends for a year, and a change is long overdue. A walk down memory lane in my hometown sounds ideal to start letting go of this never-ending sorrow and try to meet the carefree, happy girl I once was again. But back in Texas, it's not that girl I meet first.

Nate, president of the Chaos Chasers, is not a saint. He says so himself. As a pragmatic teacher, I should run from that handsome man as fast as I can. But behind his hard exterior and primitive side, all I see in his brown eyes is a caring, gentle man he shows only to me. And when a past that I didn't even know was mine tries to harm me, letting me know that Evil can borrow the sweetest face and leave you totally unaware of the danger surrounding you, Nate's protectiveness has me falling for him.

** NATE is a work of fiction set in a world of outlaw bikers. It is not a dark romance, but the book contains sexual content and some violent scenes. Therefore, it is not suitable for readers under the age of 18. **
*Every book in the Chaos Chasers MC series features a different couple and ends with a HEA, but the series is best enjoyed in order!
*Dual POV.
*Nate is a full-length novel of about 100k words.

Right Man Right Time
Meghan Quinn
$4.99
From USA Today and Amazon Charts bestselling author Meghan Quinn, comes a new fake dating, standalone sports romance featuring the hockey men you can't get enough of. This steamy, age-gap romantic comedy will bring all the laughs while making your cheeks blush at the same time.
Running into your ex is never ideal.
Running into your ex who is now dating your nemesis is a literal nightmare.
That's how I found myself in a sheer panic, reaching for the closest guy at the bar and kissing him. And to my delight he was easily the most attractive man I've ever seen.
The only problem is, when I tried to walk away after thanking him for his help, he stopped me with three life-changing words . . ."You owe me."
That's how I found myself, a college girl, in a fake relationship with a professional hockey player ten years older than me.
At first it was easy.
He helped me with my internship.
I helped keep his ex away from him.
We were becoming fast friends.
It wasn't until he started staying the night at my dorm did the rules of our arrangement become complicated.
Now my feelings are involved and even though I kissed the right man at the right time, I'm worried he's just waiting for the clock to run out.

Secret Beast
Amelia Wilde
FREE
"Secret Beast is the dark and delicious Beauty and The Beast re-telling I've been craving. Leo Morelli is an EPIC hero and I could stay in his world forever!" – M. O'Keefe, USA Today bestselling author
The beast hides a dark secret in his past…
Leo Morelli is known as the Beast of Bishop's Landing for his cruelty. He'll get revenge on the Constantine family and make millions of dollars in the process. Even if it means using an old man who dreams up wild inventions.
The beauty will sacrifice everything for her family…
Haley Constantine will do anything to protect her father. Even trade her body for his life. The college student must spend thirty days with the ruthless billionaire. He'll make her earn her freedom in degrading ways, but in the end he needs her to set him free.
SECRET BEAST is a new full-length novel from USA Today bestselling author Amelia Wilde about revenge, family secrets, and the redeeming power of love.