Thursday Romance Reads To Devour 6/8
No Perfect Love: A Bad Boy, 
Enemies to Lovers, Steamy Romance
Kelly Jayne
$1.99
Eddie was destroyed when his wife left him while serving his country overseas. He vows to protect his heart at all costs and to never let himself love again.
Kennedy goes from man to man, hoping each time that she has found true love this time, but she is always left feeling disappointed and alone.
When Eddie and Kennedy are forced on a road trip together, they drive each other crazy. And when that disdain and frustration turns into an unbelievable night of passion, will they finally find in each other what they so desperately need? Or will someone from Eddie's past threaten to destroy their last chance at happiness?

Pricked Armor (Under My Skin Book 4)
Mica Rae
$3.99
He's everything she never knew she wanted. She's everything he's always needed.
Jules never expects to discover her husband on the floor of the garage, clinging to life. Suddenly, she finds herself thrust into the whirlwind of mourning the loss of her first love, who's now reduced to a shell of his former self, requiring her full-time care.
Enter Stone, whose focus is healing from the loss of his younger brother so he can set up roots in the first place that's ever felt like home, Sin & Ink Tattoos. Blindsided by the entrance of the older, still married woman into his life, he's caught in a situation he's bound to lose.
When the two form an unlikely bond, one thing becomes clear. Friendship isn't the only thing growing between them. Jules may be married on paper only, but she's still off limits.
What happens when they can no longer resist the fire smoldering between them? Will the sparks grow into something beautiful? Or will someone get burned?

Charming: A Steamy Student / Teacher 
College Romance (Campus Heat)
M.D. Dalrymple
FREE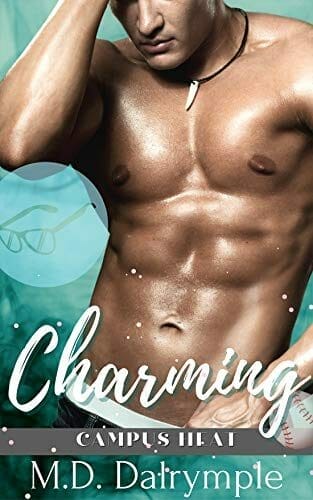 He wants to build me up, but I might be the one who brings him to his knees . . .
I'm in a bad place right now. But Coach Garcia is just the man to fix my broken heart.

I've finally done it. I gathered up my courage and kicked my gaslighting boyfriend to the curb. My whole life is upside down and everything seems so bleak — my classes, my apartment, my life.
Why now, when I'm supposed to find time for me, do I bump into the hottest, most eligible bachelor on campus? Why can't I control myself around Coach Cole Garcia?Is he something more than just a way to get over my ex? Is he the man who can bring me out of my shell?
I never imagined my life would change as I walked across campus. Until I run into the wild-haired writing professor.
She's straight out of a relationship. I should leave her alone or risk being nothing more than a rebound. If that's the case, why can't I leave her alone? But there's a lot going on beneath the surface, including her ex who can't seem to take no for an answer. It might cost me everything, but I won't rest until I have her.
A page-turning steamy college professor sports romance that will captivate from the first page! Happily Ever After guaranteed in this sweet and steamy romance with no cliffhanger . Each book in the Campus Heat series can be read as a stand alone, but are better when read together!