Thursday Romance Reads To Devour 8/4
Awakened by a Billionaire: A Steamy Romantic Suspense Novel (LOVECHILDE SAGA Book 1)
J. J. Sorel
$0.99
He saved her life… now she's become his obsession.
It was the worst night of my life.
I was tricked into working at a sleazy gentleman's club, drugged and dragged into an alley way when… Out of nowhere, a dashing hero saves me and changes everything.
He gives me a place to stay, but the next morning I slip away because I'm too embarrassed to thank him in person.
After that, I never thought I would see him again.
But, I was wrong.
Months later, I'm working as a live-in maid at the Lovechilde estate, a wealthy family with very sexy and eligible billionaire sons.
I fall head over heels for the eldest, Declan. A former SAS soldier, he's a true gentleman and sets my heart on fire.
So, imagine my shock when I learn it's the same man who saved me all those nights ago.
As much as I want to, I don't think I could ever give myself to him.
Between his overbearing mother and the unscrupulous older man chasing after me, I can't risk letting myself develop a crush…but, something tells me it's already too late.
Men have always scared me. I've never even been in love before.
But with Declan, I feel like I'm about to be dragged into a wild roller coaster with no escape…

Mountain Man's Claim
Annabelle Love
$2.99
Brooding. Powerful. Rough around the edges.
Caleb Walker's as wild as the mountains he's from.
And now I'm renting his spare room.
I moved to this small town to build a new life.
Now I can't escape if I wanted to… he's got the only spare bed in town.
And the mountain's most eligible bachelor wants nothing to do with me.
I've invaded his space, and he's on a mission to kick me out…
Before I break down his walls, and find out his secrets.
Until the night of the harvest dance.
When he says those 7 words…
"Tell me you want me inside you."
Now his brooding stares are filled with desire.
And his touch makes me cry out for more.
We're both suffering from loss.
We're both keeping our hearts closed.
But something tells me there's a man behind the beast.
A man with a new mission… to claim me, and everything I am

Rogue: A Romantic Suspense Novel
(Billionaires in Disguise: Maxence Book 1)
Blair Babylon
FREE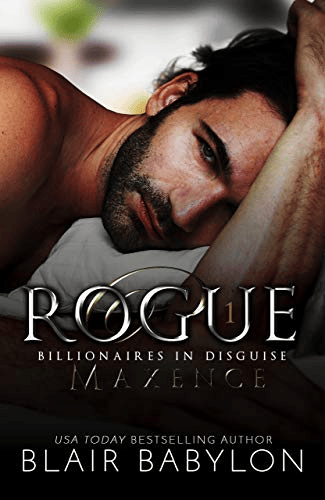 Maxence's brother was trying to kidnap or kill him, and an organized crime thug wanted to cut off Max's head and feed it to the sharks for entirely different reasons.
So, when a cute little blonde stood up on a barstool in the middle of the Buddha Bar in Paris and drew the attention of the wrong sort of guys, Maxence swooped in for the rescue. Everything about her appealed to him: her sweetness, her giggliness, and especially the fact that she was in trouble.
That last part made her sugar and catnip to Max.
Luckily, he only had five days before he left Paris and Europe for wherever his global charity job was going to send him this time.
Why not spend it with the funny blonde who insisted he lie to her?
Indeed, if she thought everything he said was a lie, he could confess his sins, unburden his soul, and reveal what he thought he never could.
Five days with her sounded like Heaven, if he could just convince her to stop throwing him out of her hotel room.
***
My life has become a sad country music song, but instead of heading south, I went to Paris.
I was a good girl who had nothing left to lose, literally. My boyfriend had stolen everything.
Everything except a non-refundable plane ticket to Paris, which was supposed to be the trip of a lifetime where that deadbeat was going to propose at the top of the Eiffel Tower.
So, I got on the plane without him.
After all that, it was understandable that when I started drinking at the Buddha Bar, things got a little out of hand.
Luckily, a man intervened. He was so ripped that I could see every thick muscle of his abs, obliques, chest, and arms through the tight tee shirt he was wearing. He towered over the guys who were bothering me, and they backed off.
I took him back to my hotel because I was full of drunken, bad decisions that night.
The last thing I needed was a man who wanted to save me when I was trying to do all the wrong things.