Thursday Romance Reads To Devour 9/22
That Look
Alexis Winter
$0.99
As CEO of my family's brewing empire, I've had one dream, to build my own legacy.
Fifteen minutes ago, the one woman I can't stand marched her perfect, uptight backside into my boardroom and stole it from me.
Amelia Blanc, heir to the Blanc wine fortune and now…my new business partner.
I've known about the Blanc family for years and I've done my fair share of stoking the rumor fire surrounding their unethical behavior.
Like when I lost it at my brother's wedding reception and made a few not so tasteful accusations to her face in front of everyone.
So imagine my surprise, when after apologizing to her and thinking we've called a truce, I walk into my boardroom and see her standing there with a pearly white smile plastered on her face that says: I win.
If she wants to win by going behind my back and convincing my father that she deserves this business partnership with Slade Brewing…Game on sweetheart.
But the more I get to know her, the more I realize that uptight facade of hers is, begging to be unraveled.
She's sexy and tempting, a delicate flower that makes me want to forget being a gentleman and show her how a real man could make her feel.
So when she gives me that look, the one that has me thinking thoughts I have no business thinking…all bets are off.
One minute we're hating each other, the next she's in my arms, in my bed…and carrying my baby.

As much as I'd like to think our hate turned to love with no hiccups, there's something she doesn't know.
Something that could shatter her heart.
Something I've been too ashamed to tell her.
It's crazy how one look can change everything.
And one secret can destroy it all.

Tempted By Love
Melissa Foster
FREE
Enjoy heart-meltingly beautiful and toe-curlingly sexy romance in Tempted by Love, an emotionally riveting story about a man who has lost it all and carries a torturous secret, a divorced single mother who has everything to lose, and the little girl who helps them heal. Fall in love on the sandy shores of Silver Island, home to coffee shops, boat races, midnight rendezvous, and the sexy, sharp-witted Steeles. They have a penchant for pranks, a passion for loyalty, and a trunk full of secrets.

In TEMPTED BY LOVE…
Years ago, bestselling author Jack "Jock" Steele lost his girlfriend and baby in a horrific accident that drove a wedge between Jock and his family, keeping him from sharing a devastating secret. An aging philanthropist saved him from the brink of despair, and for a decade Jock cared for his ailing friend who became his family. Now his friend has passed away and left him a fortune—on the condition that he publishes another book. Jock is floundering, unsure how to rebuild the life he'd walked away from, much less find his muse, have another relationship with a woman, or even think about having a family of his own. But he can't get his sweet, sexy new friend, single-mother Daphne Zablonski out of his head, and her adorable toddler must know something he doesn't, because she wraps her tiny fingers around his heart and won't let go.

Daphne has been through the wringer with her ex-husband and doesn't believe true love is in the cards for her. Friends she can handle, but letting a man see her mom bod naked? Especially someone as strikingly handsome and unbelievably sexy as Jock? No, thank you. Besides, she has a toddler to chase after and enough fictional boyfriends to fill her lonely nights. If only her book boyfriends could make her body tingle the way one look from her mysterious neighbor does.

As Jock and Daphne's friendship turns to something too tempting to deny, their lives take an unexpected turn. Can a man who has lost everything find redemption with a woman who has everything to lose? And then there's that secret…

Three To Ride
Lexi Blake
FREE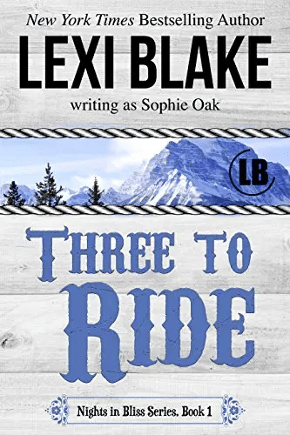 Rachel Swift is a woman on the run.

A stalker sent Rachel's world reeling. Now she's running for her life, and Bliss, CO, seems like the perfect place to hide. Bliss is a strange little town, filled with artists, nudists, and the occasional conspiracy nut. It's a good place to start over.


Max and Rye are just the men to catch her.

Horse trainer Max and Sheriff Rye gave up on their dream of finding one perfect woman to share long ago. Rachel walks in, and they're both in love and fighting their true natures.


A town like no other….

When Rachel's past catches up with her, all of Bliss is in danger. Rachel knows she should run, but how can she leave behind the love she's found with Max and Rye and the home she's built in Bliss? With her whole town behind her, Rachel is ready to make her stand. It's time for her to get back in the saddle and ride.