Tuesday Romance Reads To Devour 11/22
Ruthless Reign
Aleatha Romig
$4.99
I have a secret. I'm not who you think.
In this world, where gowns, castles, and crowns make for the perfect reflections, life isn't always as it appears. Love is elusive, even when the most beautiful woman is right before you. Illusions distort visions, shadows lurk in the sunshine, and monsters tread behind smiles and chivalrous facades.
I, Roman Archibald Godfrey, swore an oath to Molave.
To the king.
And above all, to Princess Lucille.
Forget the fairytales you've heard. This world is ruthless.
Have you been Aleatha'd?
From New York Times bestselling author Aleatha Romig comes a brand-new contemporary romantic-suspense series, Royal Reflections, set in the world of the royal elite, where things are not as they appear.
*RUTHLESS REIGN is book one of the Royal Reflections series.

Click here for all available retailers >>
Reign Of The Queen
A.L Maruga
$0.99
Have you ever wanted to destroy someone so desperately that all your waking thoughts and actions are consumed by rage and the need for vengeance? What if there wasn't just one but four someones?
They never saw her coming; they don't remember what they did to her, but she remembers everything.
Theo, Carter, Finn, and Mateo.
They were villains in so many storylines, the four sexy kings of Casbury Prep, spoiled with unlimited power. Their wealthy families gave them control over not just a school but the entire town. Their power and families were a legacy to be envied or destroyed.
They thought they could control Mia, that she would fall in line like all the others. That they were invincible, and maybe they were until a queen decided to revenge the past wrongs and destroy their kingdom down to the last brick standing.
The walls of their empire are crashing down around them: the unexpected, a gorgeous irresistible enemy within their realm, one they want to break, control, and destroy. Can they keep their hands off of her long enough to save themselves and their kingdom?
Heads are going to roll. No one takes on the kings and survives, especially not some rich girl from out east.
Sometimes a pretty face is not just a pretty face; sometimes, beauty is a tactic of war. Watch out, kings of Casbury, your queen will have you kneel or have your head; either way, she's coming for you, and she doesn't plan on leaving survivors.

Dracones Awakening: Immortal Dragon, Wolf, Witch, Vampire, Cursed & Hunted Book 1
Sheri-Lynn Marean 
$0.99
Two fallen angels are dead, Tierney's father is missing …
… and Jax refuses to believe they're soul mates.
As Tierney searches for her dad, her dragon powers begin to awaken—secrets and lies are revealed, and the man she loves abandons her.
◆◆◆
The daily battle for control of the beast raging beneath his skin practically paralyzes Jax with dread. What if he hurts someone innocent? What if he hurts Tierney?
Well aware that he's not worthy of her love—when a monster surfaces—one so vile it makes Jax see red—he does what he believes is the only thing that will keep Tierney safe.
But is it? From skin and scale arises a broken beast of sorrow … along with evil and ancient magic.
Will they all be strong enough to defeat it?
Get it now because time is running out to feel your savage heart soar.
This steamy romance isn't just a dragon shifter story but an emotional adventure that'll leave you breathless.
For fans of Sherrilyn Kenyon, J.R. Ward, Gena Showalter, Lara Adrian, Larissa Ione, Nalini Singh, Dianne Duvall and Christine Feehan.

Click here for all available retailers >>
Wright With Benefits
KA Linde
FREE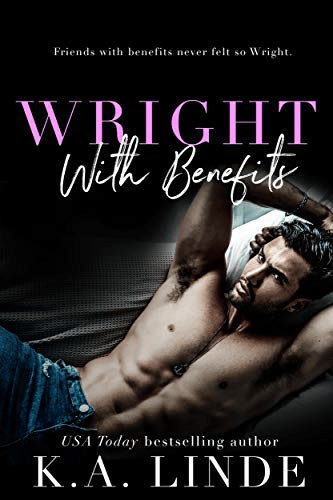 A feisty stand alone friends with benefits romance from USA Today bestselling author K.A. Linde. With new characters set in the bestselling world of the Wrights, this is a perfect jumping on point for new readers!
I shouldn't have hooked up with my one night stand… again.
To be fair, I was having the worst day of my life. I was sure that nothing else could go wrong.
Then in walks Jordan Wright.
We have a heated history, and I've been avoiding him. Not least of all because he's a hundred percent my type with those big brown eyes, a ripped body, and his blisteringly broody charm. I said I'd never go near him again.
But he's there for me when I need him. And well, old habits die hard.
Only problem?
I'm leaving in a matter of months, and nothing is going to change my mind.
Maybe in the meantime, I can still have my Wright…with benefits.