Tuesday Romance Reads To Devour 12/6
Sleigh Bells Ring: 
Best Friends/Second Chances 
Sweet Christmas Romance 2022: 
A Magical Cowboy Christmas Holiday Novel
Jessica James
$0.99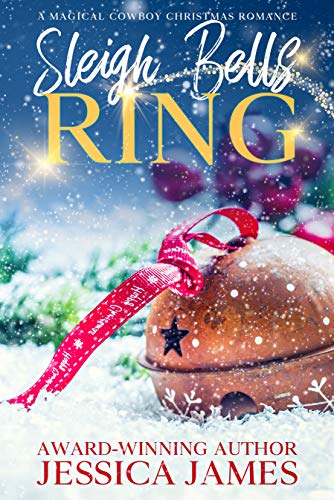 WELCOME HOME TO THE MAGIC OF CHRISTMAS!
Sleigh Bells Ring is a heartwarming and inspirational holiday cowboy Christmas romance filled with second chances, holiday traditions, the reuniting of best friends, and the magical promise of love during the holiday season.
There's no love story as beautiful as those at Christmas, so pour yourself a cup of hot chocolate and indulge in a classic romance that unleashes the magic of Christmas and the true meaning of the season. This clean, wholesome Western romance will take you back to bygone days when holiday traditions were deeply rooted institutions, and when love could heal all wounds.
Returning to her family's Montana ranch after a ten-year absence, Jordyn Dunaway pitches in to help her Mother create the special holiday magic for which the family ranch is renowned. But when she discovers that her best friend growing up—the man she has never forgotten—is employed as a ranch hand, the holiday season turns into something she never imagined.
Chad Devlin was falling into a deep abyss after leaving the military as a result of a traumatic brain injury. When his old employer invited him back as a ranch hand he found himself recovering both physically and mentally…that is until he was blindsided by the return of the ranch owner's daughter after a ten-year absence.
The rocky relationship of the former best friends takes a back seat as the future of the family-owned ranch becomes threatened. If Jordyn and Chad don't put their painful pasts behind them, they might lose the ranch they both call home. Can misunderstandings, mistrust, and lost years be forgotten when the magic of Christmas is in the air?
Find out with the help of beautiful vistas, warm bonfires, and the magical meaning of a special sleigh bell that ties both Jordyn and Chad to the past—and the future.

Playing Loose: A Small Town Friends-to-Lovers Romance (The Playboys of Sin Valley Book 5)
Cassie-Ann L. Miller
$2.99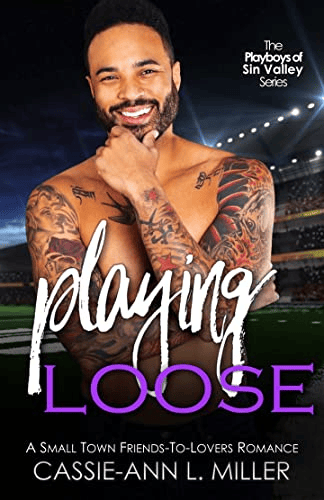 I'm a grumpy single dad with a demanding football career.
The last thing I should be doing is falling for the sunshine-y school teacher down the road…
When I moved to Sin Valley, I didn't come empty-handed.
I came with a demanding football career, an energetic little boy and the baggage of a recent divorce.
Romance was the last thing on my radar.

At least until I met the gorgeous first-grade teacher who lives a few houses down my street.

Katrina is the kind of woman no red-blooded man can ignore.
Always walking around with a warm smile, the sweetest words and a plate of fresh-baked treats.
I can't help but want to be near her.

'Just friends' is just fine in the light of day.
But when the street lights come on, I want…more.

I want her lips. I want her curves. I want her on her knees, saying my name.
I'm trying to be responsible. But Katrina says we both need to let loose, live a little. And she's got a detailed plan to show me how.

As friends, of course.
Just friends.

That's the story we're sticking with.
Because I'm still putting my life back together.
And having my son's teacher doing the walk of shame from my house at the crack of dawn? Well, that's no way to make a good impression around the neighborhood!

But the more I hang out with Katrina, the more I start smiling again. And the more it becomes blindingly clear–we're playing loose with the definition of 'just friends'.
Innocent glances lead to not-so-innocent touches. Dirty jokes lead to tangled sheets and clothing scattered on the bedroom floor.

I have an itemized list of reasons why we should just keep it friendly. But screw it–the friend zone isn't working for me.
Now, I'm playing for keeps.
Playing Loose is a steamy, laugh-out-loud, friends-to-lovers small town romance. It is set in small town Iowa and is the conclusion to the Playboys of Sin Valley series.

Ignite
Melanie Harlow
$0.99
My new neighbor is a firefighter–and a scorching hot single dad–but I swear I didn't set off that smoke alarm on purpose.
(And I was beyond mortified when he rushed in and saw me naked.)
Nothing happened, of course–because I, Winnie MacAllister, romance junkie and owner of a constantly broken heart, have sworn off men for one solid year.

The Master's Honeymoon: A Steamy, Billionaire, BDSM Romance (The Billionaire's Bride Book 1)
Simone Leigh
FREE
The Billionaire's New Bride
Beth, once a struggling student, is now newly married to her Billionaire Master, Richard Haswell.
But will her life as the brand-new wife to the man of her dreams be the fairy tale she expected?
A Steamy, Billionaire, BDSM Romance

The Master's Honeymoon is the first part of a new, serialised sequel to, 'Bought by the Billionaire'