Wednesday Romance Reads To Devour 2/8
The Minnesota Snow Pirates Series: Books 1-3
Lasairiona McMaster
$0.99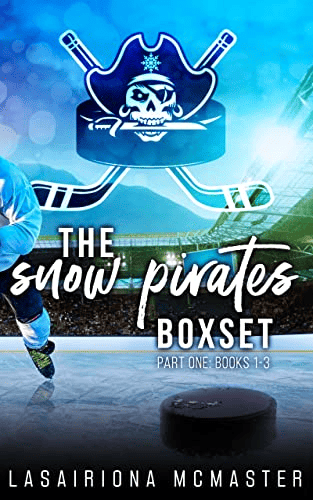 For fans of sizzling hockey romance… read and enjoy the first three books in the Minnesota Snow Pirates series with a bonus short story (previously published in the Good Vibes anthology) now.
Secret identity, grumpy/sunshine, and brother's best friend. Hot hockey playing hunks and the feisty women who bring them to their knees.
Inside this special boxset are THREE full-length novels and a short story, over eight-hundred pages of scorching romances each featuring a sexy Snow Pirate. Dive inside and prepare to lose yourself in these page-turning steamy romance stories.
Two for Interference: Pride and Prejudice meets You've Got Mail.
When Lincoln Scott attempts to return a misplaced bra, a wrong number gets him way more than the hook-up he bargained for. Does Linc have the skills off the ice to keep up with her?
(Bonus short story) Big Vibe Energy: When Lincoln get injured, Cleo resorts to some self-service. But can she get past her hang-ups about toys to get the job done?
Two for Holding: Regaining trust after heartbreak is hard. Can Russell protect his daughter, and his heart, when his past comes back to haunt him?
Two for Roughing: Falling in love with his best friend's younger sister when they were teens was an accident. But when they cross the line, there's no going back. Can he keep the two most important people in his life, or will he be forced to choose?
If you're pucking obsessed with sports romance you'll love this hot-as-puck hockey team. Full length standalones with no cheating, cliffhangers, and guaranteed happily ever afters.

Cupid Strikes… 3 Times: A Valentine's Day Reverse Harem Romance (The Why Choose Haremland)
Ajme Williams
$0.99
Being my best friend's maid of honor meant that I had to promise myself I would stay away from her hot older brother.
Let's just say that I'm exceptionally good at breaking promises… not once, but thrice.
Wynn Beauchamp twirled me in his arms, and I saw stars
He had been the subject of all my teenage fantasies.
And it wasn't just because he was a rockstar.
Wynn had a way of making me feel like I belonged to him.
But he wasn't the only one…
His irresistible bandmates had me falling for them just as hard.
Nico… His serious demeanor only added to his mystery. He gave me sleepless nights with just one look.
And don't get me started on Gabe. I wanted him to feel as adored as he made me feel.
I shouldn't have fallen into their bed.
Reminding myself of all the rules I grew up with meant heartbreak.
On top of that, Wynn had his image to clean up and this would only get him more in trouble.
But perhaps, trouble was worth it… just that one time.
Was that another promise I was about to break?

Where You Left Me, Vol. 1
Dani Bannister
$0.99
No groom? No problem.
Jasmine Fairchild was left at the altar. Literally. With the bouquet still in her hands, she's determined not to let her cheating ex have all the fun. She wasn't going to waste her honeymoon to The Bahamas. She was still going. All she needed was a 'groom.'
Fortunately for her, there was a waiting church of people. Surely, one of them would want a free week-long cruise in exchange for getting fake married on the spot. It didn't even matter who she took with her, as long as she didn't have to go alone. That would be too humiliating.
Will Jasmine nab herself a volunteer from the waiting crowd willing to drop everything to leave the country with her simply so she can avoid dealing with reality? And more importantly, would her volunteer be cute?
Find out in Where You Left Me, Vol. 1, a red-hot contemporary lust-to-lovers romance novella. If you like your romance with a lot of heart, humor, and heat, then you'll love Dani Bannister's sizzling series.
Say 'I do' and get swept away today!

Click here for all available retailers >>
Hush: I'm Yours Book One:
A Contemporary New Adult Romance
Mica Rae
FREE
One night shatters her world.
That same night he vows to protect her…forever.
Edie
Homecoming was supposed to be magical.
Instead, it became my nightmare.
I said no.
Now I'm the villain of my rape story.
It feels like Dean is the only person I can trust.
Dean
She's been my best friend since the fourth grade.
I've always wanted her, but not like this.
Not broken and a shell of her former self.
I'll stop at nothing to make the girl I've always loved smile again.
Start reading now and find out if Edie and Dean find happiness despite all the odds stacked against them.
This is a full-length friends to lovers romance. You can read it as a standalone or as part of the I'm Yours series.