Wednesday Romance Reads To Devour 3/15
Irish King
K.C. Crowne
$0.99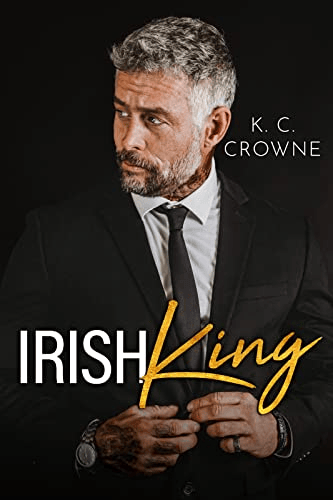 My plan for infiltrating the Irish mafia?
Find a soldier. Flirt my way in the door. And save my best friend.
But that's when a jaw dropping silver-haired man noticed me.
And he's no soldier. He's next in line for the throne.
He's determined to bring me down.
And I'm prepared to make his life h*ll.
Except there's one big problem: an intense pull I feel for a dangerous man old enough to be my father.
How am I supposed to save my best friend's life…
When all I can think about is Conner's hungry eyes scanning my body, ready to devour every inch of me..
Bet On It: An Age Gap Billionaire Office Romance
(High Stakes Book 1)
Ajme Williams
$0.99
Being a billionaire had become boring until a stranger showed up to a conference and spiced things up…
Curvy, sassy, and dangerously younger than me…
Analyn was everything that a former hockey player needed to stay away from.
I was used to women falling all over me.
But Analyn's pretty mouth that never shut up was still tempting.
Especially when she made a bet I couldn't resist.
Analyn had no idea she was setting herself up for failure.
Little Miss Sassy came back to me, this time looking for a job.
And I knew it was my turn to suggest a wager.
Our one-night stand had to be forgotten.
But I couldn't not notice that cute pencil skirt she'd wear to the office.
All eyes were on me… on us.
And my eyes were on the only woman I could bet would nevertrust me.
Or would she?
Bet on It is a VERY steamy, age gap, grumpy billionaire boss romance. This novel is a complete standalone with no cheating or cliffhangers and lots of tasty spice.

Fluffy
Julia Kent
FREE
It all started with the wrong Help Wanted ad. Of course it did.
I'm a professional fluffer. It's NOT what you think. I stage homes for a living. Real estate agents love me, and my work stands on its own merits.
Sigh. Get your mind out of the gutter. Go ahead. Laugh. I'll wait.
See? That's the problem. My career has used the term "fluffer" for decades. I didn't even know there was a more… lascivious definition of the term.
Until it was too late.
The ad for a "professional fluffer" on Craigslist seemed like divine intervention. My last unemployment check was in the bank. I was desperate. Rent was due. The ad said cash paid at the end of the day. The perfect job!
Staging homes means showing your best angle. The same principle applies in making a certain kind of movie.
Turns out a "fluffer" doesn't arrange decorative pillows on a couch. They arrange other soft, round-ish objects.
The job isn't hard. Er, I mean, it is — it's about being hard. Or, well… helping other people to be hard.
Oh, man…
And that's the other problem. A man. No, not one of the stars on the movie set. Will Lotham – my high school crush.
The owner of the house where we're filming. Illegally. In a vacation rental.
By the time the cops show up, what I thought was just a great house staging gig turned into a nightmare involving pictures of me with an undressed star, Will rescuing me from an arrest, and a humiliating lesson in my own naivete.
My job turned out to be so much harder than I expected. But you know what's easier than I ever imagined?
Having all my dreams come true.